The belated April Motion Update in brief:
370 miles on the bike,
21 miles running
Totals on the year:
954 Bike, 49 run.
The bike was good this month. Some 150 on the MTB, 100ish on the roadie, 50some on the track bike and the picnica, the breeze and the twenty on garbage time 10-20miles each. I spent a week in albuquerque for a class, but was able to bust out some commuting midweek on the picnica thanks to the nice ABQ bike map.
I did commute every day I was in the alamos.
The run was really good too as I was able to run twice a week for short ones with no knee pains.
With the benefit of most of the May behind me already I can predict May is looking crap what with some hard work, some travel and some odd aseasonal daily rain as well as snow showers. But whatever. I raced 4 times in 16 days between mid april and the first weekend in may so I can rest a bit and enjoy the midseason break.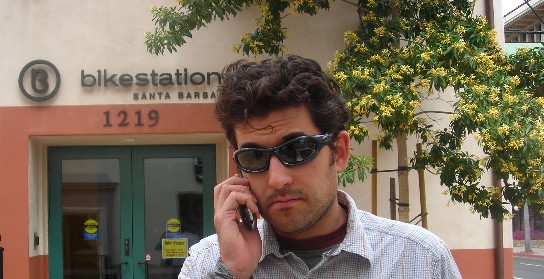 Me chanelling my inner socal en frente the Santa B bike station.
Click for big