When I was out in MN visiting with the
Large Feller
, his daughter Chloe was hunting Minneapolis Tomato eating squirrels. She asked me what squirrels were like in NM and I told her that they are weird. In honor of her
big Schwinn ride effort
I post these photos of the rare NM Nappy Squirrel:
I took these pictures in Bandelier National Monument here in NM, I think this might be a spotty ground squirrel?
The other main species in Bandelier is the Aberts squirrel. In the winter they have super excellent tufted ears: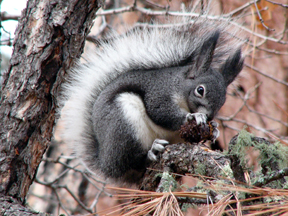 click image for source, the Bandelier Data sheet on the Aberts Squirrel
unlike the mean Minneapolis squirrels that steal garden veggies and might shiv you if you look at em funny, the Aberts Squirrel stays out of town and off in the forest. They love peace and ponderosa pines.
Ok, so big congrats to Chloe for riding the heck out of a big bike.