On new years day and then again today, I spent a few hours traversing the excellent nordic ski trails here in Los Alamos up there on Pajarito Mountain. New years was great as it was sunny, spectacularly groomed and all the Los Alamos XC skiing all stars were out and I was able to sneak some pointers from my pal and MTB arch-nemisis
Jessica
. Now I am moderately less apelike on classic skis. Thanks jess.
Jessica and trees: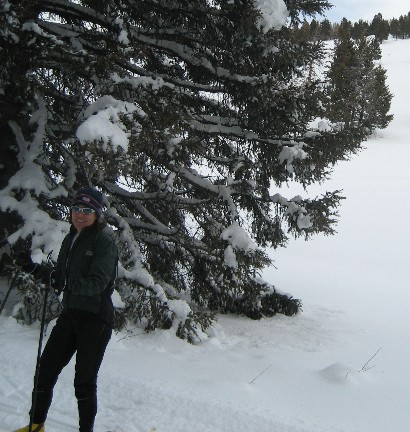 click for big
Me at the bottom of the meadow on new years day. You can see fall biking photos of me riding at roughly this spot
here
and
here
.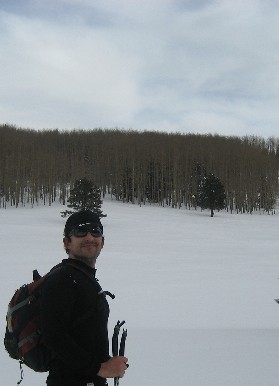 click for big
Me atop the meadow looking down ready to show the world how NOT to do tele turns on touring skiis. I had to ski along fresh elk track through aspens laced with very fresh elk scat to get there. Elk scat looks like piles of black olives in the snow. Yum! I was afraid of having to wrassle an elk in 4' of powder if I stopped to long, so I did not take a picture, sorry, next time, I will photodocument the "rocky mountain olives".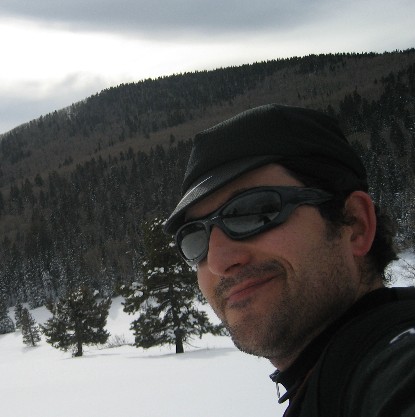 click for big
Some photos of the trails today, amid mixed squalls and sunshine.
The groomed trails in the woods with 2" or so of fresh snow on them: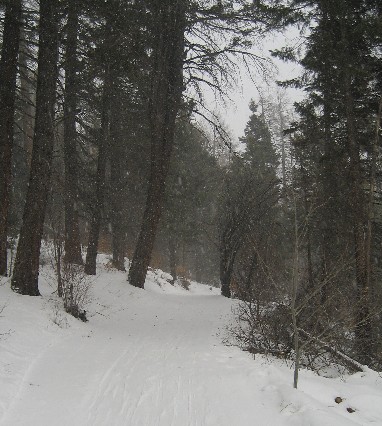 click for big
Rare shot of me without any glasses looking pooped with the inherited dark circles under my eyes (thanks dad!) at the top of the meadow with Valle Caldera land behind the fence.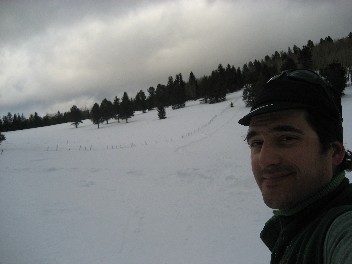 click for big
Me peppered with snow during a squall with a clouded panorama behind: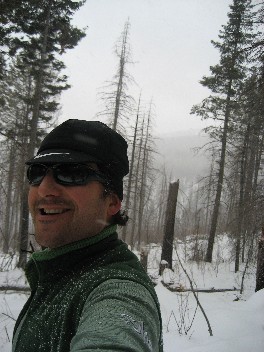 click for big
It was a pretty good day, I spent a 45 minutes on a pair of used skate skis to see if I could get the hang of it. I couldn't, largely because I probably ruined my ski boots at somepoint on monday (
see here
for the bored), thus I could not push off my right foot. I figure once I get boots sorted, I will pick it up pretty quick, I am a very adept ice skater after 4 years of intermural hockey and daily between class skating during college and weekly skating here in los alamos in the winter. After playing around on the skate skiis I switched back to my touring skiis and enjoyed sliding around on the fresh loose snow atop the icy groomed trails. The set tracks were still skiable, but the meadow had some impressive drifts and on the way back I biffed a few times pretty suddenly when I went from soft drift to hardpack or the reverse.
Also in this XC ski week, I picked up some used skate skis, aforementioned, for me and touring skis for elena from the
local ski club
. So I needed to learn a bit about waxing skiis. XC skiing is worse than cycling. Ski waxing is more steeped in lore than tubular tires. Thankfully Los Alamos has many people who practice the dark art of waxing, and the XC ski scene overlaps almost 100% with the cycling scene, so I was able to go bother my pal Paul (Lord Voldemort of Waxing) to get some waxing lessons: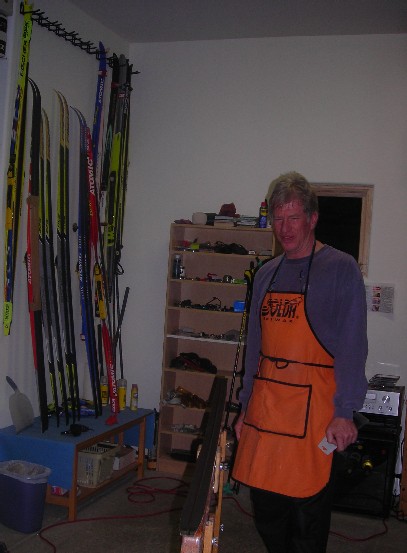 click for big
My inner yoda shouts, "mmmm, it is not wax that makes you fast, no, it is having waxed". What a weird sport, wax on wax off, scrapy scrape...scrapey!. While I love getting new tools and stuff to support my gear intensive hobbies, I think I am going to put some clement tubular cement on my skis and call it good, at least until I give in to the sirens call of racing. Dammit.