So the question was, can I, using only my road bike, get to where Cañada Bonita hits the barbed wire fence seperating it from the Valle Caldera?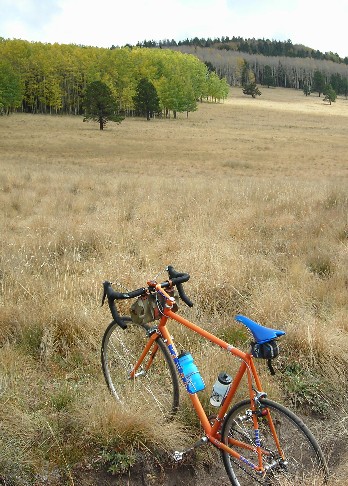 click for big
Answer: yep.
So it takes about 9.5 miles from my house to get there via los alamos canyon, about 8 of which is climbing from the ice rink all the way to the top. The last 2 miles or so is on doubletrack and then singletrack through the xc ski trails atop pajarito mountain. I have ridden through Cañada Bonita a billion times on the MTB, but it is often not that fun getting up there on a mtb. The off road routes are climbtastic and take a long time. Climbing up the ski hill road on a road bike is much easier, still painful 2000+ foot climb, but relatively fast, especially as it is newly paved. I think it took me 1hour 20minutes to get all the way to where the picture was taken. Well under two hours round trip.
The ski trails are in great shape. Los Alamos has a serious problem with downed trees due to windstorms on the upper trails. Especially where the fire went through, but often with live trees too. The xc ski club and tuffriders mtb club do excellent work keeping the trails passable and it was good. Just a few trees down on the parts I rode, not including the arm size sapling I moved off trail. I must help them more.
The trails are slightly rocky, but pretty smooth and were quite easy to get up on the road bike. The aspen leaves down all over the trail made it a bit tricky and slippery and hid the rocks a bit, but it was not too bad.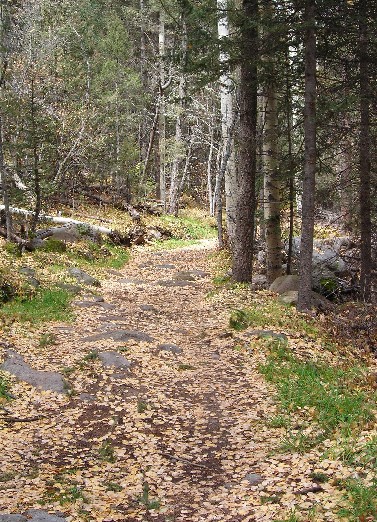 Coming down was a bit sketchier, I made a little loop coming down the all access area of the xc ski trails, which was a fair bit rockier. I rode slow and steady and made it back without dabbing at all (up or down) save the gate at the bottom of the trail.
Ideally this would be done on cross tires, but this was pretty easy on the 25mm specialized road tires I was sporting. They sit about 26mm wide on open pro rims. I was running an All conditions pro up front and a mondo pro in back. I have well over 1000 miles on the front, the back is pretty new. I love these tires. They are round and light and, at least for the all conditions pro, are very cut resistant. My all time favorite road tires are the michelin pro races in 23 or 25, but they cut easily, which is less than ideal for the rough los alamos road riding and stupid dirt diversions. These specialized pro's are really nice.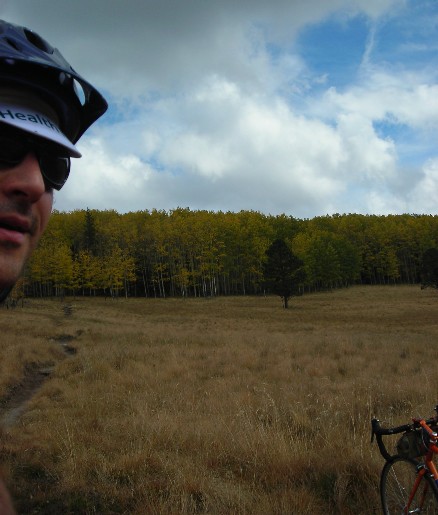 click for big
The singletrack upwards in this pic leads up toward the pipeline and guaje trail junctions, I think I probably could get to the top of the trail seen in the photo on my road bike and down a bit on the other side, but not too much further. The trails go to big rocky fireroads for a while, which would probably be pinchflatastic. See
scotts blog
for some similar photos and an idea what lies beyond.
It was a really good fast ride. I am guessing by late november this will be impassible on a roadbike, and possibly impassible via skis, with full on skiability by the new year, if we are lucky. Do your snow dance now.
Here is what it looked like in two winters ago, the last time skiing was possible. Picture taken from almost exact the same place as today's: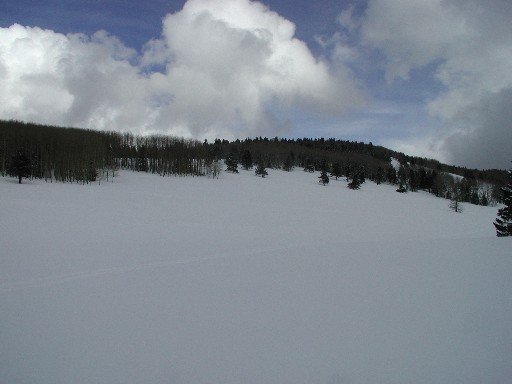 click for big