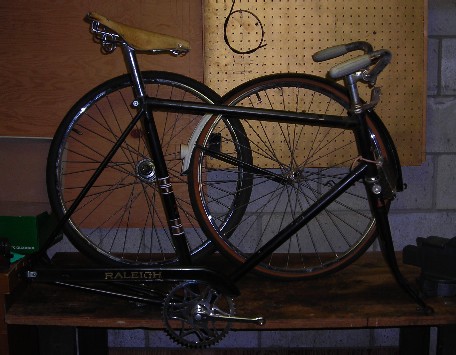 click for big
Garagesus
was good to me last weekend. A quick 3 stops and 10 dollars later I own
yet
...
another
...
raleigh
...
project
...
bike
. This time some sort of 1966 (from the AW hub) enamled black raleigh 3 speed roadster with 590 wheels. The bike, judging from the speckled bird crap and horrible sunburn on the brooks saddle, spent some time outside, but this being NM it is in pretty good shape. What is not in good shape, is the bike itself thanks to the too smart for his own good scientist who was the previous owner. It obviously was about 20 minutes into an overhaul by the guy who thought, it was just a bike, how hard could it be. It sports a new rear tire and the right pedal has been taken off. It is also missing the hub cones and shifty mechanisms, the brakes, the levers, the front fender, the nuts from the cotters (?!?) and other bits. I am guessing it was midway through dissasembly when the scientist guy either could not get off the left pedal, or got really scared of the innards of the Sturmey AW hub. Or maybe it took until he went to the LBS to find replacement SA innards and then got scared off. Hmm...
Anyhow, all the stuff missing is not there. The previous owner was sheepish and evasive when questioned directly about missing parts, justifying my theory above. Luckily I have a JC higgens donor bike mouldering about for just such an occasion with a suitable front fender and a seventies AW hub to make things right.
I am up in the air about whether to make this a 3 speed with chromed steel rims, or with Aluminum rims, or if I lace up a coaster brake to the OG rims, or if I make it a 584 bike with maybe with a 2 speed kickback bendix, I can use the 584 rims I got off a schwinn hybrid I got at a garage sale last year. Hmmm...
It was worth it just for the weird B72 saddle: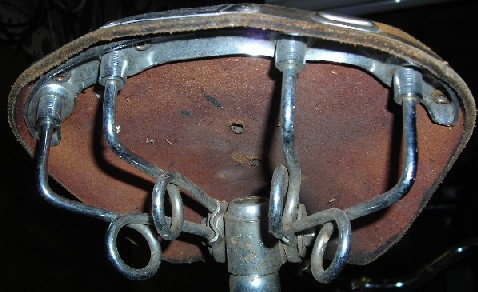 Lots of proofhide, a bit o' tension and a touch of skirt lacing and it should be good to go.
For those who enjoy such things, here is a high res photo of the
developing basement lair
. There is a fridge, a workstand and enough room for about 15 bikes behind me when I took the pic. This is the first dedicated bike workshop I have had since 1997 or therabouts.
Thanks to
sweetnourishingbikes
for garage sale bike display inspiration.