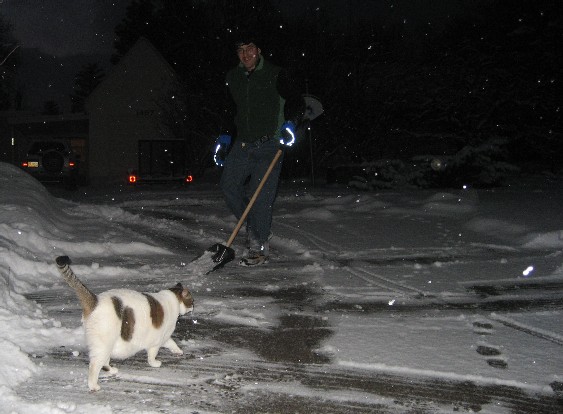 click for big
6" of new powder today requires a double shoveling, morning and night. Wink256 likes to help and can negotiate shoulder high powder if necessary.
Most of the snow came down today. It was just warm enough to keep the roads wet and crappy during the day, and snowy slushy and treacherous at night, so to avoid freaked out driving amateur hour, I took my old offroad commute home. It has been mostly unridable since early january, but I was hoping that last week, which was very warm, would have taken care of most of the snow. Nope, no luck. There was 1-2 feet of old snow with 6 inches of powder on top of it. The old snow was almost crusty enough to ride, but the rides were a few hundred feet at most punctuated by sinking up to the hub. This is where studded tires fail miserably. They are far too narrow to make riding on deeper snow possible. I
reiterate
these tires need to be at least 55mm in width, maybe more to be truly extreme. On the plus side, I have 300 or so miles on them this winter and they probably have allowed me to not crash on ice at least once every 10 miles or so.
I hiked/rode for an hour home in the snow. I will attempt to do it again tomorrow to commit to beating a ridable path.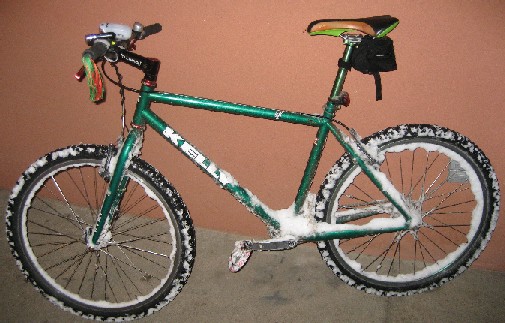 click for big
I had some spectacular snow build up on the bike today. There was a phantom chainring that formed on the left crank arm. A large disc of snow that turned as I pedaled. It fell off just before I got home, but it was there almost all day.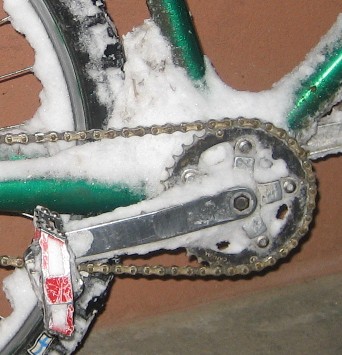 click for big