At some point in 1995 at a double feature of
The Doom Generation
and something forgettable at the UC theatre in Berkeley I fell head over heels in love with Rose McGowan. So, it is pretty inconceivable I would not like a movie featuring Rose McGowan as a Go-go dancer/machinegun-prosthetic amputee/zombie killer. Just so you know my preconceived notions.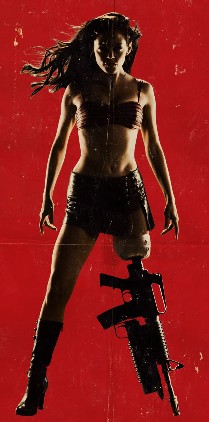 That said, the movie was freeeking awesome. All the fake previews and intersticies were spot on. The Planet Terror first part is the pinnacle of the current resurgence in zombie movies. The Deathproof part started slow and then built up to the point that elena and I were yelling YEAH with our arms up in the air as the movie concluded.
Good stuff. See a much more indepth and better written review over at
Chris Knipp's joint
.
If zombie/slasher/car chase flicks are not your bag, skip it.