Cold and rain and rain and cold.
Well, it dropped about 30 degrees overnight hovering just above freezing this am and we got a bunch more rain as at least two thunderstorms moved in last night. Most ceiling leaks are still there. Mosca kept me company working on a presentation until 2 am last night and then she woke me to let me know there was a thunderstorm and the roof was leaking at 5am. Thanks kitty! At least I do not oversleep anymore. Maybe some more snowy mountain photos tomorrow. For now, uh, here is the fall harvest from the property: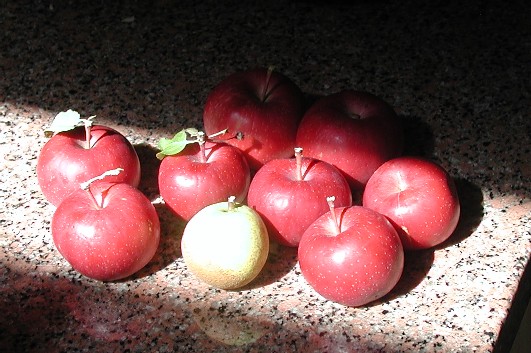 The apple tree had an insane number of apples this year. Small and sweet, delicious with sharp cheddar. I need to get the rest off today or tomorrow before they freeze. One of the front yard pear trees had two pears. One fell off, so I panicked and picked the other, it proved to be very very unripe. Too bad.