Welcome Cyclists!
Well my bike and catblogging worlds have meshed as some internet pals from a bike list have put together an abloggeration of all of our personal blogs. Thanks Jim!
The beta metablog is here:
http://www.yojimg.net/bike/ibob/metablog/
Kinda neat.
So I will add bike stuff here now and again as I promised long ago, but as i went for my first ride in two weeks today (2 miles) I may need a bit of time before I have bike news.
In the meantime here is me racing over the summer up in los alamos, up on the ski hill, 9000 feet plus. Click for big.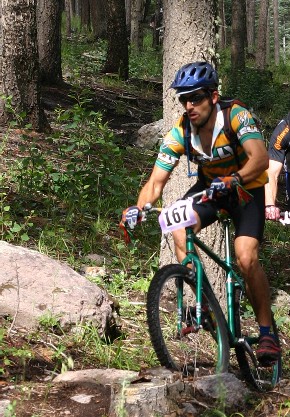 This is 20 miles and 3000 feet altitude from the shaggy cowboy pic below. Nice variety of riding here. That was at the pajarito punishment stage race in August, the last time I rode more than 2 hours this year.