Like I says, Elena, Paul and I drove up to Colorado to race the
Alpina
Snow Mountain Stampede. This is a race of constantly morphing nomenclature. The race is the Stampede or
Alpina
Stampede, or the Colorado Stampede, or the Snow Mountain Stampede that takes place at the YMCA of the Rockies, at the Snow Mountain Ranch, near
Granby
Colorado. Are you going to
Granby
to race? Heading to Snow mountain this weekend? Doing the Stampede? Once I figured out that all those things referred to the same race, I signed up...
After the 7 plus hour drive including the blizzard coming out of
Leadville
, we got to our nice little motel in
Granby
. Unfortunately the rooms were not ready yet so we headed up to the wonderful
nordic
center at the YMCA of the Rockies. In addition to 100k of groomed
nordic
trails, they have a very well stocked ski shop. As this was the last event, near the end of the season, they had a useful %40 off everything sale. I, uh, saved hundreds of dollars and now I have all my own waxes and brushes as well as some other
xc
ski gear that my life
apparently
was incomplete without. Despite bitter cold wind and snow, the ski shop and Wax reps were recommending a warmish wax (
Swix
LF
6) as the snow was wet and would ski warmer than the temp. Which sounded good to me as I waxed earlier in the week based on 15 and sunny at the race.
After the
shopathon
we had a good
german
dinner at the
Longbranch
restaurant
and then turned in amid -16F temps and blowing wind. The next morning we met other
losalamoosans
Clay and John for breakfast the next morning: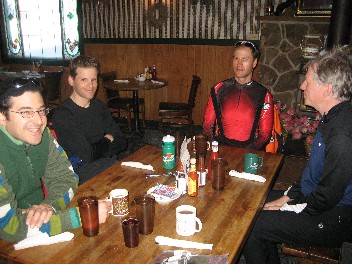 click for big, (me, john, clay,
paul
)
Since there were four races on tap and Paul and Clay had the 9am start, I was able to eat a pretty large breakfast a full three hours before my 10 am race. I chowed down sans abandon on
omelet
, toast and really awful coffee. Yum!
We got to the race site around 7:30 and it was -8 degrees and sunny.
Hmm
, not all that ideal. As it was really cold I kind of lounged around not all that concerned about warming up, more concerned about staying warm. We watched the start of the 42 and 21k classic races and then the start of the 42k skate race: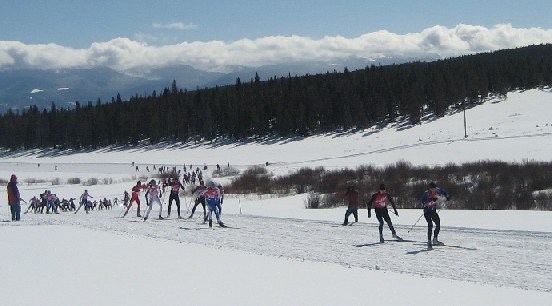 click for big
I put on my gear and watched with dismay, as the zipper on my ski boot popped apart. Elena and I spent some minutes attempting to fix it before we realized I had 10 minutes before my race. I borrowed some tape from the ski shop and taped the boot to my foot. Problem solved. If you look carefully at my left boot, I was even able to get matching tape. What elan, no?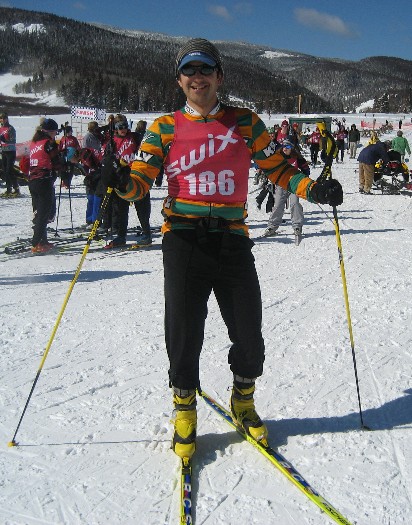 click for big
Since I have only been skate skiing this year, I choose to do the 21k skate race. It was one big beautiful 21km (13 mile) loop which is pretty impressive. I was a bit apprehensive about the race as I had learned a week earlier that I pretty much was skiing all wrong. I could go fast and inefficiently, but not for long. But thanks to the efforts of
Koach
kisiel
, I got straightened out a bit, but only had one day to practice before the race.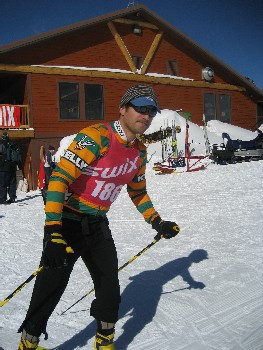 click for big
During my brief
warm up
I concentrated on getting my weight shifted over the skis as I glided and getting my arms swinging forward correctly. It helped to watch the experienced
skiiers
skate along as well. I noticed while skiing to the start that the snow was pretty squeaky. I am guessing it was right around 0°F and sunny at my start. Not a good sign. At the start most people were exclaiming what good grip they had. Another bad sign. Skate
skiis
are glide beasts, grip and squeak are bad bad bad. But what can you do. The race started and immediately went up a long gradual hill. The start area was really wide, so I had no problems getting going, except for the truly pitiful glide I was getting.
It seemed that most of the racers passed me immediately. There were just over 100 racers at the start of my race, 75 doing the 21k skate and 30 people doing the 10 k. I am estimating I was in the 70's shortly after the start. The course started with a a couple
k's
of climbing, and then a couple
k's
of descending and then a really long climb, and then a scary long descent and then rolling stuff for the last 5k to make the big loop. The first few kilometers of climbing were demoralizing, I had no glide whatsoever, most people around me did not either. I spent a fair bit of time double poling uphill in the classic track, but that still sucked. On steeper climbs I ended up herringbone running up the climbs rather than skating. Yuk.
As the first descent approached, the sunny spots of the course were warming up and gravity kicked in and I was able to get moving pretty well. I slowly started passing people in droves. By the time the big climb started, I felt as if I was skiing well and began moving up in the race. The shady areas in the trees were still pretty rough going, but I was cruising along OK. By the top of the climb, I fell in with a three people who really knew how to skate, which in turn made me a better skier.
The three of us leapfrogged back and forth as we hit steep hills (favoring me) or long descents (favoring people who did not need to snow plow) for most of the middle of the race. Toward the end of the long down hill, the snow was warming up a bit and I was becoming a better and better
skier
. At one of the aid stations I finally found out that I had a mere 6 kilometers left, so I really started pushing it.
I dropped my companions and started picking off people in front of me. I felt tired but really good otherwise. As I was speeding up, a woman came out of nowhere and blew by me on a downhill. I had not seen her all race. I spent the rest of the race attempting to ski with her as she slowly
gapped
me. In the process I went way into the red zone and passed
a lot
more people. Some people were classic skiers I caught from the earlier races, some were 10k skiers and some were people ahead of me. The final stretch of the course was the same long uphill that we started on. It hurt
a bunch
and my arms and legs were burning, and I looked like this: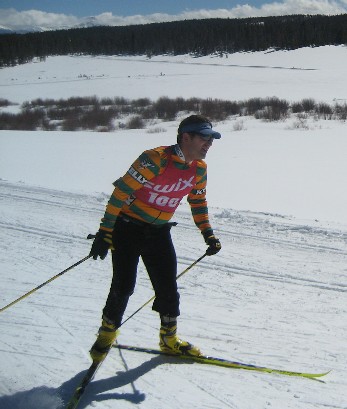 click for big
I felt a bit euphoric at the end, it was much longer than I had
skied
continuously
before. It was by far the best I had skated. My lungs were burning and tight from that dry cold air. My arms were really sore and my legs were like jelly. I had frozen sweat all over my head: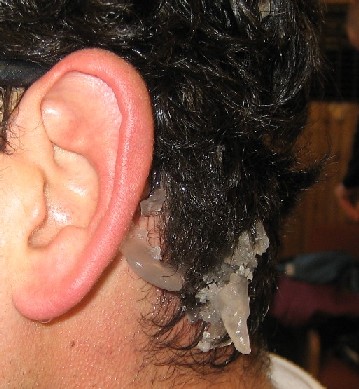 It turns out I finished in 1:47. My goal was something under 2 hours, so given the cold slow snow and the
miswax
I am really really happy with the time. I finished 38
th
out of 75, and by some statistical quirk, second in my age group, a mere 30 minutes behind the winner. I think next year, with some more training and better waxing and the like, I will be able to improve
measurably
. There were a ton of people less than 10 minutes ahead of me as well, although I could not really see any of them for most of the race. Apparently Connie Carpenter finished 5 minutes ahead of me, which is pretty cool, I met her briefly after the race, which was also really cool.
See the irritatingly
fonted
results
here.
Of the
los
alamoosans
at the race, Clay busted out a strong top 10 in the 42k classic, Ken was 24
th
in the 42k classic, John was 24
th
in the 42k skate and Paul finished somewhere in the back of the 42k classic. He then retired from racing to play minor league baseball, but then made a comeback by dinnertime.
After the race, most of us headed back to the
Longbranch
for ales and schnitzel suffixed food. A good bet if you happen to be in Granby, Co.
The next morning we got up and hit the excellent trails at the golf course atG
randlake
Co for some lovely skate skiing. After a couple of hours, we hopped in the car and
dodged elk
for another 7 or 8 hours before getting home.
What a good race. Maybe I will do more of these next year. The two races I did just whetted my
appetite
for more.