A month or so ago I spent a Friday in Santa Fe, dropping the car off to get some maintnance way down south. I packed the Picnica in the car and rode up the arroyo de las chamisas trail to the lamy trail. Alas the going was slow as the trail was really muddy with the rapidly melting snow: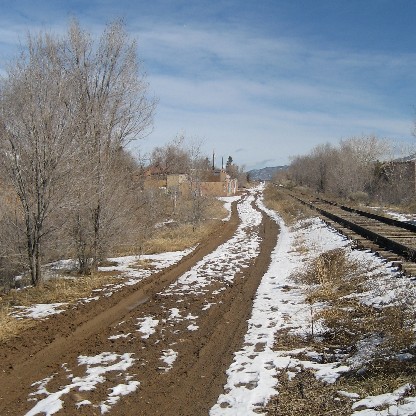 click for big
I was reduced to walking a few miles as the bike became encrusted: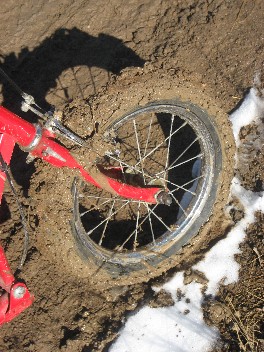 click for big
But it was worth it as when I got to the zia caboose as the owner, Hunter, was hard at work inside. He generously gave me a tour and explained his plans for the train and some other insight on the area.
I learned that the cupola was not originally part of the caboose, Hunter fabbed it out of the ceiling panels and some other steel bits. He and his friends have put in a full hot water on demand water system for the shower and sink and wired it for electricity a-la a motor home. He is planning on having an office/bed/bath and kitchenette and placing the caboose along the tracks near the second steet brewery along with a his future restored train car projects.
Hunter in his caboose: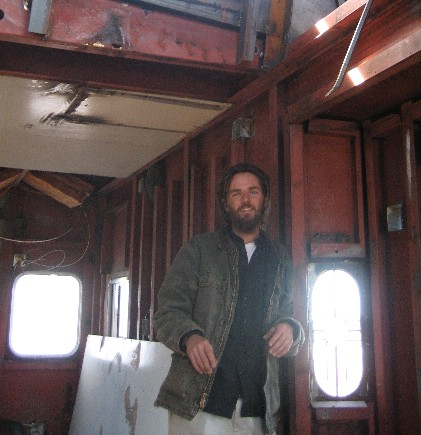 click for big
Another shot of the inside and Hunter
here
Although it really does not look he did that much on it since the
first time
I photographed the inside, the amount of work in wiring and plumbing were pretty impressive. He is getting ready to start finishing the inside. He is in a constant battle with the local graffiti artists to keep his caboose clean. The "do not hump" pullman parked next to his caboose is loosing that battle: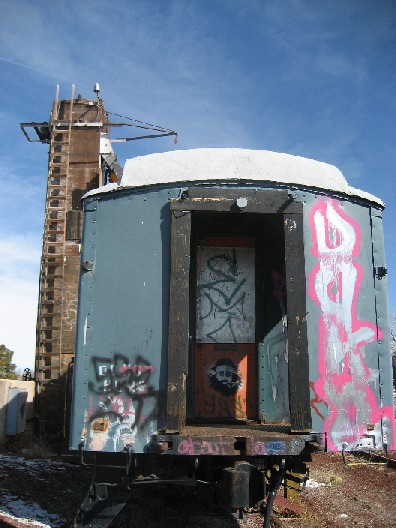 click for big
Hunter says that the "do not hump" car is getting a $50k new suspension system and will be restored for the
santa fe southern
(warning clicking link yields extremely obnoxious music) tourist line from Santa Fe down to the amtrack station at lamy. I was glad to meet Hunter, he has lots of ideas and fab skills and I am eager to see how the train finishes up over the next months.
After more hiking, I rode downtown for a lunch at tia sophias and parked my tiny wheeled burro next to the iron one near the lensic.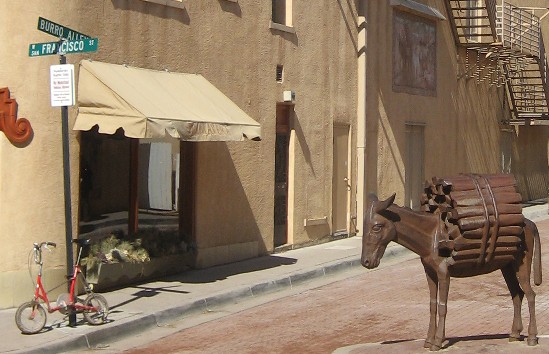 click for big
See previous entries on the
zia caboose here