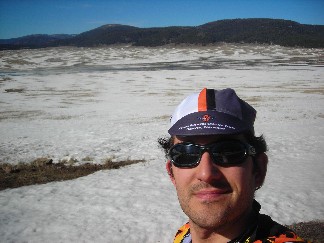 click for big
It has been damn near 70 degrees lately so I busted out a road ride to the
Valles Caldera
. It is 14 miles and a whole pile of climbing, including a nice painful 4 mile climb, from my house to the caldera pull off above. It was fun to see that much snow while I was in short sleves and shorts. That big meadow was left when a volcano went boom a more than a few centuries ago.
I probably last did the ride in July 2006. It seems they did alot of clearing of dead trees on the climb leaving the road more open than before. It also seems like they made the entire climb steeper, especially the last mile. The road was completely clear of snow, but there was a fair amount of sand and grit, so the 4 mile descent on the return trip was no where near as fun as usual. The little culvert alongside the road was filled with snow runoff and there were multitudes of elk track everywhere.
Because of the steeper hills it took me 1:22 to get out to the second pull off at the caldera (via the ice rink canyon). It usually takes me 1:15 or so. We will see how that progresses as the high altitude sun evaporates the steep parts away.
That big blue mess in the middle is the normally tiny Jemez River swolled up with melt.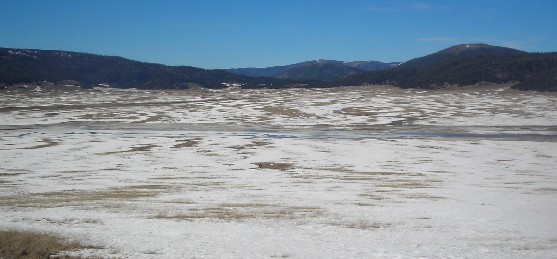 click for really big and panoramic