Over at
Hen Waller
, a nice blog on bikes and sustainable living, Patrick has one great post on looking good while riding. It is so good I am sure it is going to get the heck blogged out of it, but what the hell... See the post
here.

One of the most frequent questions I get about bike commuting is about what to wear, what to do about changing, hair, etc. Now, it is true that I dress, uh, science casual. But I am presentable at work daily. I can wear shorts to work and do in the summer, but I have ridden to every job interview I have had in the last 10 years. I rode to my PhD defense. I have ridden in suit and tie in the summer in Tennessee to give presentations. Etc. etc. The trick is to pick your fabrics, have a spare pair of clothes stashed if it all goes wrong and just keep trying things. If you have a long ride in, maybe you should change, but for less than 10 miles, you usually can get away with anything. Most people use the clothing issue as a handy excuse not to ride. If they would just try it, the learning curve is quick, and you can succeed and look good.
Anhoo, if you were wondering about looking good while commuting to work, surf on over to
this post
and read away.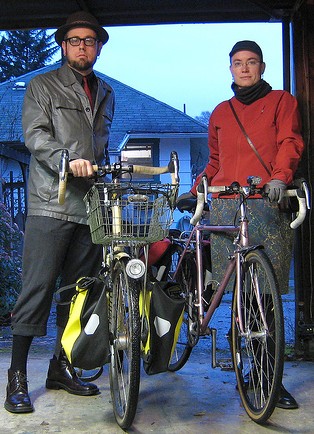 Patrick and Holly looking sharp for a night on the town. Click for source.
Patrick also started a flickr pool for stylish cycling called
velocouture
Faboo!