A few weeks back when Elena and I went up to Chama so I could race the Chama Chili Classic (
here
), I spent some time tromping and photoing about the Chama station for the Cumbres and Toltec Narrow Gauge Scenic Railroad. It is a vestige of the massive NM-Colorado narrow gauge rail system that used to serve the ranches and mines all through the rockies. The narrow gauge railroads (3 feet) were able to traverse the high passes in the rockies where it was cost, curve and grade prohibitive to send a normal gauge (4'8") railroad.
Chama station is up at 7863 feet and hops over the Cumbres Pass at roughly 10,000 feet before dropping down into Antonito, Colorado 64 miles later.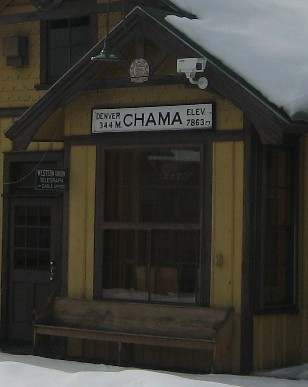 click for big
They keep the coal fired engines in here during the winter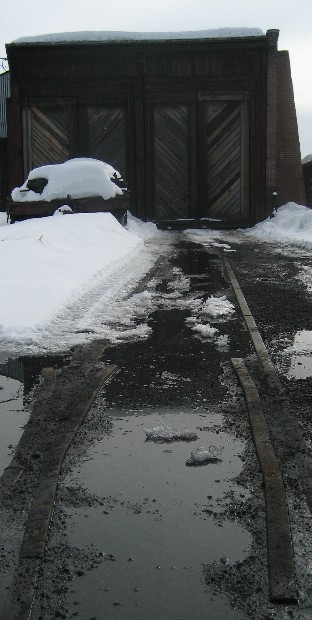 click for big
The Cumbres and Toltec Narrow Gauge Railroad was on the same line as the possibly more famous to cyclists Durango and Silverton Narrow Gauge Railroad. The Antonito to Durango part does not exist anymore. The rail line was part of the Denver and Rio Grande Western Railway. The cyclists know of the Iron Horse Classic where you can race the train between Durango and Silverton. But thanks to my buddy Clay, I learned that there was once a Chama-Antonito bike race where they raced (and easily beat) the train from Chama to Antonito. Clay is a long time NM resident, ex pro bike racer and handily, a civil engineer who spent some time working for the railroads. Thus he is a font of info on pretty much anything I don't know about regarding trains, bike racing and New Mexico. (Wikipedia filled in the rest, see
here
).
Anyhow, I got really excited when I saw these puppies: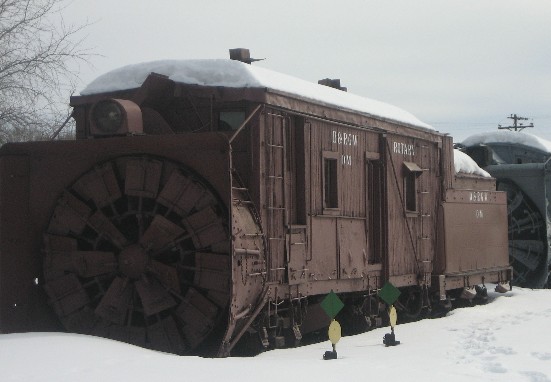 click for big
Check it out! Turbine rail engines! My mind just about exploded, fortunately Clay set me straight, they are rotary snowblower trains for clearing the track, often taking 14 hours to clear the pass when the line opens for tourist season. Not quite mind blowing, but cool nonetheless.
The yard in Chama had a huge number of cars. Pullmans, cabooses, stock cars, etc. They also had a huge rebuilt stockyard down the road from the station a bit.
Some pullmans: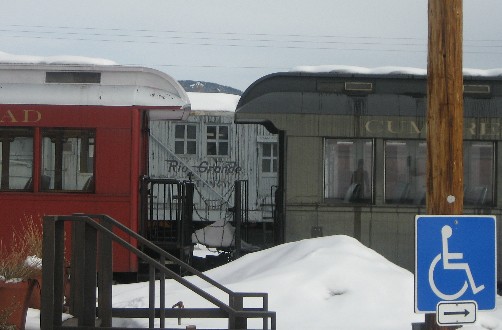 click for big
Caboose: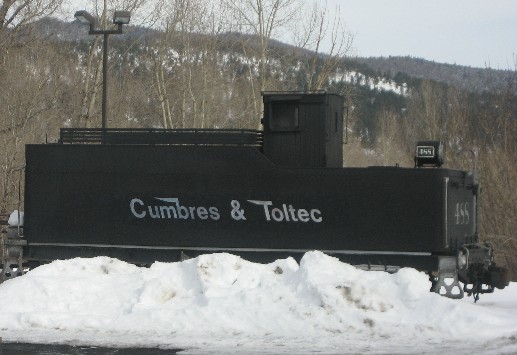 click for big
Hmm, I am running out of entertaining facts about Chama. They had a truly insane number of cars for a tourist line, including this thing: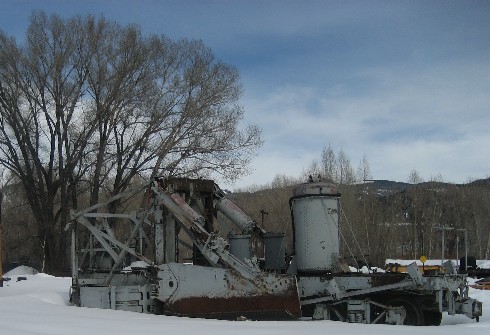 click for bigger with spruce boxcar
A nice pullman in front with possible long shot president Gov Bill Richardson's name painted on it: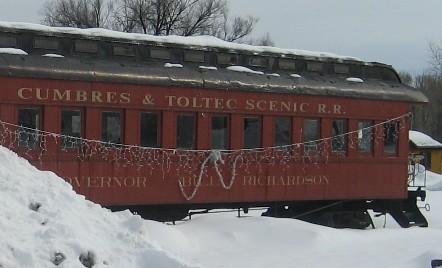 click for big
A long shot of the trainyard, there were so many more, but the 2-3feet of snow made it hard to get around: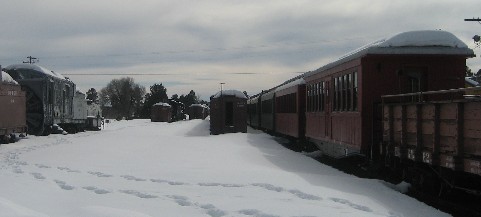 click for big
Anyway, maybe when the parents visit we will take the long rail trip up to Antonito. We drove through Antonito last week on the way to the
Stampede ski race
. It did not look quite as nice a little town as Chama, but it looked OK for a visit.