Wink256 is no lover, he is a fierce fighter. But not so good at it, he mostly gets his ass kicked by the orange tomcat in the neighborhood. For the second time in a the last few months, he got a big fight induced abscesses that burst and required vet visits. Last time on his chest, this time, a huge one that wrapped around his neck. Requiring anesthesia, stitching, an inserted drain tube and one of those elizabethan collars. The collar did not last long, but he kind of looks like his head was badly stitched on after an unfortunate decapitation.
Below, see the poodle leg he has from where they inserted an IV during surgery. If you click the image you get the grim view of frankenkitty. Not too gross, but not real pleasant either: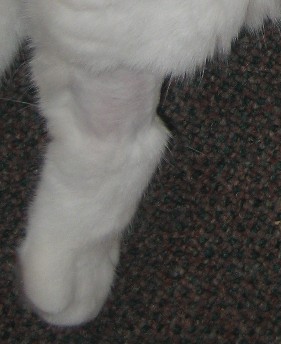 click for big
Wink256 is hereby banned from the outdoors for a few months. Fortunately for him, the snow and cold is imminent and the outside is not going to be all that fun for the kitties anyway.
He is now beyond the need for the painkillers, the tube is out and he is merely on antibiotics. He is much better but it seems he has regressed in to needy kittenhood. Hopefully after some more days of recovery he will be back to his power eating self.