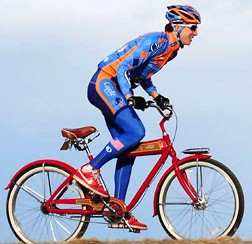 click for source
There is a nice fluff article on
Taylor Phinney and family
over on Sports Illustrated. If you don't know who he is or who his parents are, go read it.
Taylor is 17 and one of the top five pursuit cyclists in the world and will be representing the US in Beijing this summer in the Olympics. He rides for the
Slipstream Chipotle team
and with any luck, will be doing one day races in Europe flying the plaid colors and possibly a tacky mustache within a few years. He and his team are good reasons to get back into watching pro cycling, if recent continuous scandals have turned you off.
A short excerpt from the
SI article
:

"We saw Greg LeMond when he was on his way," says Roger Young, a legendary coach and the director of the Carson facility. "We saw Lance [Armstrong] when he was on his way. You knew those guys were going to do something great. Taylor is going to do something great."
So, uh, no pressure kid. Just go out there and do something great, K?
As an aside, I briefly met his mom, Connie Carpenter Phinney at a
ski race last year
, I think all I came up with was an eloquent, " duh, huh huh erm, hi, huh huh huh".