Tour spoilers below the pic.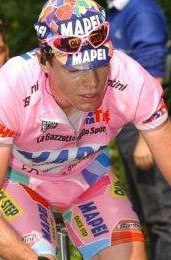 click for source
My favorite grand tour moment of recent history was in the ought two Giro when Cadel Evans cracked like a little egg and lost 17 minutes in the last 10km
while wearing the pink jersey
. It was a race of suffering. Hamilton was riding his first grand tour with a broken collarbone, grinding his teeth into nubs as he rode to a second place finish, bless his little blood doped heart. Evans went from race leader to 14 minutes in arrears in one stage. It was horrible to watch, exacerbated by the ingeneously awful pink jersey/shorts and mapei jellocube outfit. But man what a stage.
Was todays stage in the tour any better? Well landis popped like a baloon on the last climb and merely lost 10 minutes on the day while in yellow. Well done. But the real story, to me at least, is the fact that EVERYBODY cracked. Well almost everyone, but Rasmussen in his epic victorious effort was pedalling squares for the last two kilometers and looked even more
spectral
than usual, especially as he struck
the jesus
on the finish line. Sastre's brilliant attack was tempered by his bonk on the last few km's, limiting his gains to a mere 10-15 seconds over the three that did not crack. Kloden, Perrero and Evans were clearly in the best shape, although none of them sorted themselves out as a leader. Previous epic cracker Evans was suffering but held on. Kloden looked unperturbed, but he never really attacked, maybe he has the Ulrich diesel installed. What of Perrero? He had the luxury of a 2 minute lead over everyone, never needed to work and was the only one who was energized at the finish.
Liepheimer made his bid for the podium from a long way out. He looked great until the last climb where he imploded. Menchov too attacked repeatedly on the final climb and paid for it in minutes at the end.
What a great stage. No one is in control of the tour. With Leipheimer, Menchov and Landis with little to loose suicidal attacks in search of stage wins could be the theme of tomorrow's stage. I predict another crack festival in stage 17 and nothing sorted until the final TT.
If you decided to not watch the tour this year, you are making a mistake. Go skinny men, race for them sammiches.