Had a nice little trip down to Albuquerque last friday to pick up the flying pigeon and intersected with some of the bike culture in town.
I ran into
Rick
and his really nice tall bike outside the Flying Star on RioGrande. It was pretty clean tall bike work, pretty tall and had a nice chainline. This apparently allows the chain to stay on despite flexiness when riding the top. It also allows the lower pedals to ghost turn. And possibly allow a small person to hunker inbetween the tall and small bikes and ride. Anyhow, I guess rick has a bunch of nice bikes, see a super chopper
here
.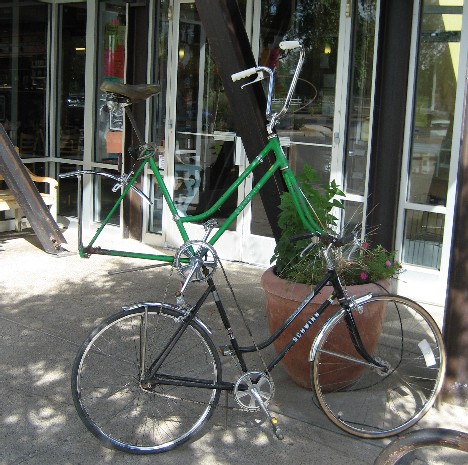 click for huge pic...
Also saw this guy with his poor chopper strapped down to his truck. It must have been unruly.
Finally some where on the west side i saw this nice floyd landis tableau.