A long time ago in a corner of Oakland that does not really exist anymore, a skinny hungrier version of me worked sporadically for Kelly Bikes. I learned to make bikes and drink coffee, hopefully helped get bikes out the door and gained two lifelong friends in Chris Kelly and Robin Parisse. After many years in the industry and at least 10 churning out production Kelly bikes, Chris decided to shut the operation down and hang up his torch and welder for a bit. I am sad about this, but I think this is a good thing for them and hopefully will allow them some time to ride and spend time with their beautiful daughter. In the meantime, they are selling everything from the operation. Their inventory is here:
http://www.kellybike.com/2nd_rr_gobsale.html
and there are lots of good things for sale including nice MTB's and road bikes, really really nice steel stems for 1" threadless, some forks and a whole lot supplies for framebuilders or those aspiring to be, including jigs, tubes, bike front ends and the like. Act fast if you want some stuff as the inventory is decreasing daily. Tell em Tarik sent you.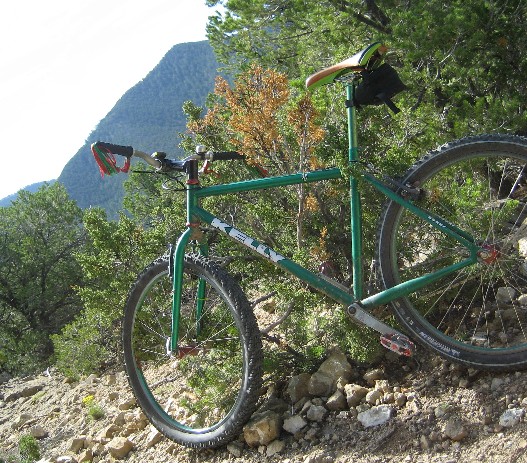 click for big
Today's and
yesterday,s
photos from the spectacular Dale Ball trails in Santa Fe.