Check this video of a 23 year old clean cut super skinny frank zappa teaching steve allen how to play the bike with drumsticks and bow.
part one
and
part two
at youtube.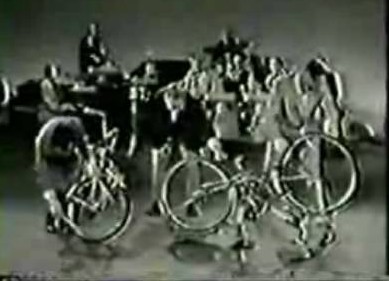 The playing starts at around 3:20 in the second video, but the lead up is pretty good if you have the time.
Also, damn kids from nashville rage on their cruisers, it appears that they are the next big thing, they sound a bit like
sleater-kinney
to me, but you can't fault damn kids, punk rage and bikes. See the
excellent bicycle based evil of Be Your Own Pet here
, be your own pet website
here
, get their album at your local purveyor or
online
Finally, via the
innovators at chunk666
, a don't try this at home video,
flaming bikes of death
. Astounding.