The talk went well, maybe 30 attendees, about 50-50 regulars and bike people I guess. I think I talked for about an hour and got about 10 minutes of questioning out of it. I even got a free coffee from it. I was hoping for a few more bike people, but given how small the travel bug is, I am pretty sure any more people would have been too many. I would be glad to give the talk again if there are interested organizations.
I handed out cards that elena made for me, so if there are any new readers from the talk, Thanks for coming.
I wanted to thanks Craig Degenhardt from Albuquerque for lending me a really nice flying pigeon so I could have a bike for people to look at. See craig below with his nice pigeon and chinese trike he got back from China. He is also recovering from a gruesome bike induced upper arm fracture and is sporting some custom Ti internal hardware now. I will photograph the bikes a bit more carefully over the next day or two for bonus chinese bikes of the day.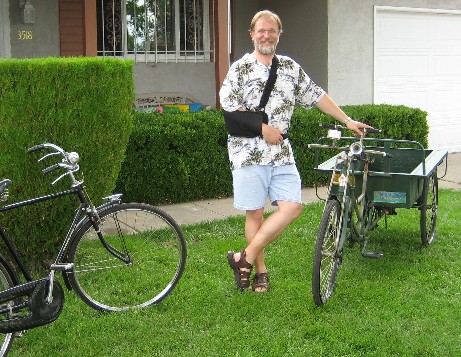 Click for big...