Did the epic
Pajarito Punishment
Mountainbike race yesterday. Ouch ouch ouch.
See the
painful course profile here
. I think that is 4000+ feet of climbing over 25 miles, starting and ending at around 9000 feet.
See the part that says three bears?
Thats where I crashed on ball bearing like pumice rocks and did this to my shoulder: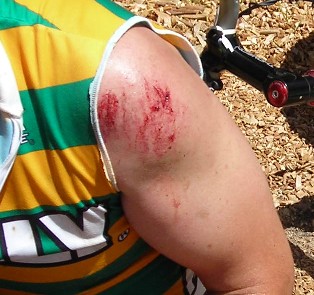 click for post race bigger shot.
as well as grinding a bit of my hip, wrist and sunglasses. I think the bruises are much worse than the cuts.
See the 13 mile mark? Thats where I bonked with 10 miles and 2000 plus feet of climbing left. Ouch ouch ouch.
I have had good years doing this race and bad ones. This year was good in that I finished and did not vomit, but man this race gets harder and more epic every year. The newly cleared Guaje ridge trail is really spectacular, the higher elevation stuff in los alamos reminds me of some of the loamy singletrack in norcal.
It was not really one for the rigid bike, my hands are blistered beyond belief, but thats what you get for not riding more than 2 hours previously and then attempting a 3 to four hour race. I think I scored the DFL for the singlespeed class, woo!
Big congrats to the Sportsman-Dittmer family with
Scott
taking a strong third in the single speed catagory (also rigid), Carrie winning the womans race by a huge margin and young Ariana placing in the beginners race.
The race was under new organizers this year and I have to say they did a great job. With the help of the
tuffriders
, the trails were in spectacular shape despite some unbelievably fierce monsoon rains in the last two weeks. So thanks to the organizers, volunteers and the trailmaintainers for helping the race go on. Big single loop races are rare and require lots of staff and volunteers to make them run. I really appreciate the efforts of all involved.