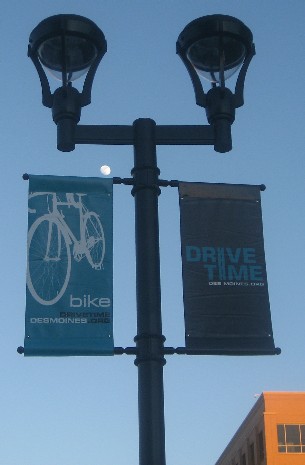 I had a great weekend in Iowa. I met many a good person and gave a very well received Chinese Bike Talk at the Iowa Bike Coalition's Bike Night fund raiser. There were about 100 give or take a dozen at the talk, which is at least twice crowd I have ever spoken too. I spent a couple of hours hitting the Iowa Bike Summit and was really impressed with how well developed the bike advocacy is and how well organized things were. Good stuff from Iowa. They even had a full day of talks for city planners and traffic engineers to help make sure facilities are designed appropriately for cyclists.
It was COLD. It was even colder than Los Alamos was last week and it prevented much of the planned outdoor activities. I got a brief hike in and a 10 mile single speed ride around downtown on Sunday. But It was hovering about zero F plus or minus a few degrees all weekend. Sheesh. Lots of time for yakking and drinking epic amounts of coffee, dude.
I will post more this week. i am pooped thanks to spending an unexpected night in Denver on the way home. I will also post some chinese bike resources for those who are interested, probably tomorrow.
I want to thank Mark Wyatt and the rest of the board of the Iowa Bike Coalition for inviting me out and I really want to thank my hosts who helped ferry me around, put me up and feed me all weekend. It was great to meet everyone.
my hosts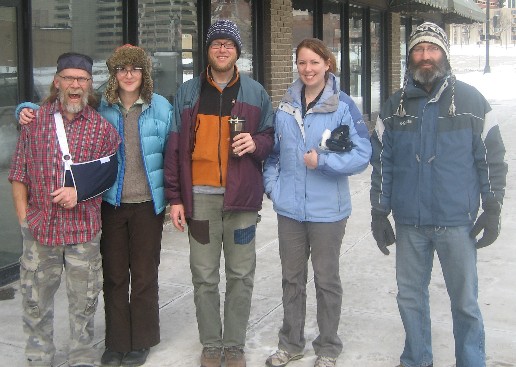 From left to right:
Kim Clavicle
,
Cody
and
G-Pickle
, Bike Iowa's Jen, and Chad VanDenLooeyNyjsVelde. not pictured is Chad's generous wife Dorothy, who was really nice too, but was rocking out at band practice when the photo took place...
Thats some good facial hair there gentlemen.