In addition to working and visiting the LFOAB I had some other fun
Twinkies lose a close one to the A's at the Metrodome
Man is the metrodome terrible. Even half full it is deafening and the astroturf has mange. But it was still fun to go to a game and spend $6.50 on a watery beer.
Got to see A's wunderkid Brad Zeigler pitch. I had no idea he was a submariner, almost as fun as a knuckler:
I also visited Hurl at
CarsRCoffins
a few times. Hurl and I go way back to the old days of racing sting rays over top of fallen drunkards at bike events. His bike/coffee shop is really nice and filled with old bikes and good coffees and cookies.
Schwinn and Bianchi Goodness
and yes, I bought a carsrcoffins onesie.
Me and Hurl
Good stuff Hurl. Next time maybe we ride.
Also, lost in the last post was that I met
Bob Brown
finally. I think I have been in Email contact with him for about 10 years. It was great to meet him and ride with him. Too keep with the pointy photo theme: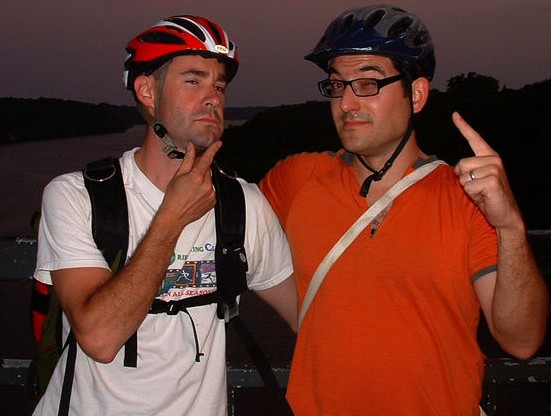 image stolen from LFOAB, click for source
In addition to having geeky engineering discussions with Bob, I got a chance to check out his excellent handiwork on Scott and Amy's bikes as well as one of his sns coupled bike at One-on-one. He also told me the secret to the copper coated bike that he made for Amy. Its people! Its coated with People!
Copper and People coated BB frame:
It is hard to tell from the photo above, but Bob looks like freakily like my buddy
Mark Bishop
. I think they are related. Which one of you is the orphink?
Finally, I got a chance to swing by the
One On One
bike studio coffee bar on my way out of town. It is excellent. The bike shop/coffee shop is a hard trick to pull off, but they seem to have two gooduns in minneapolis.
One-on-one shop front with custom racks
Next to Sex World a block from the Mississippi.
Big Dummy-Bison-Elk
I think I saw at least 6 big dummys in MN. They are everywhere. You cannot escape them. One on one had perhaps the best taxidermied head collection I have ever seen in a bike shop. The studio was clean and displayed bikes with plenty of room to browse and drool. But then. There was the basement.
The basement starts organized
Used bikes galore stacked up and well labeled.
Then descends into bicycle madness
The further you go in the basement the more chaos reigns. I think I saw a CHUD lurking in a corner behind a rusted out Shelby Flyer. There was so much good stuff down there that I was unable to process, cooler heads would have grabbed the huge box of internally geared hubs and ran for the Canadian border, but my circuits fried pretty quick when I got in the basement.
All in all, Good show minneapolis, I hope I will be back.