So before the report a bit of a preamble...
SO no fooling there I was in the
hospital
last night bleeding away happily when the doctor comes in and looks over the wound. The conversation went something like this:
Me: So, can I do a snowshoe race tomorrow?
Dr: I don't see any reason why not.
The good doc pokes around a bit and then looks up thoughtfully, conversation continues:
Dr: So, where do you go to race horseshoes.
Me: Uh..
Dr: er snowshoes...
Me: Up in the mountains, usually where there are hiking trails covered in snow.
some more poking about:
Dr. What kind of horseshoes do you race in.
me: Uh...

Me: Smaller snowshoes than the backcountry ones, which are lighter...etc.etc.
Dr. Hmm, horseshoe racing..
Me: Uhhhh. So if I go SNOWshoe racing at 10,000 feet tomorrow and my heartrate gets to 200bpm there will be no problem, right?
Dr: no, should be OK.

Doc leaves me, a RN comes in a bit later to clean the wound.
RN: So what kind of race are you going to tomorrow?
Me: Snowshoe
RN: Ah, because the Doc told me that you were horseshoe racing...

So in conclusion I was definitely allowed to race horseshoes at 10,000 feet today, but I am in still unsure whether snowshoeing was OK. Onwards to the longwinded report:

So the race was up there at the very tip of sandia mountain overlooking Albuquerque. Zach and I left Los Alamos at just before 7 and made it up to the top of the peak via 14 (the Turquoise trail) in well under 2 hours, not too shabby and a beautiful drive. I had never been up there before, it was pretty damn cool, but cold as crap. Maybe it hit 20 by racetime, but not too much more. The peak is pretty bare sporting an impressive array of radio towers: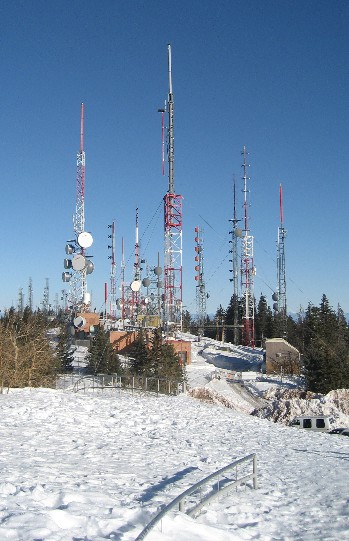 click for big

and a damn good view all over the place, looking SW over the fog enshrouded ABQ: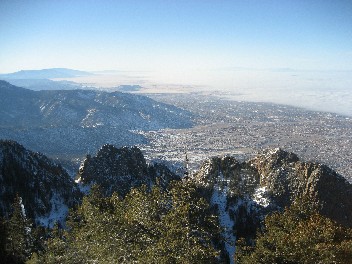 click for big, much better big

Looking east, or north east, or something: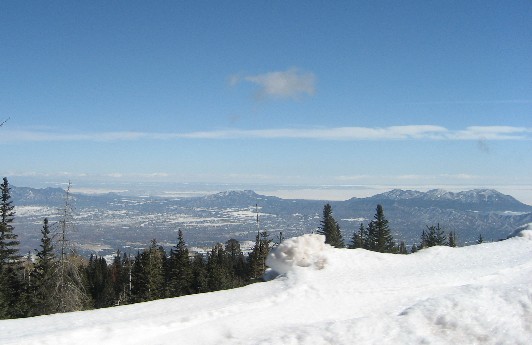 click for big

Me and Zach prerace overlooking ABQ. We should form a band and use this as a cover photo. It turns out we both play Ukelele a bit, so keep an eye out: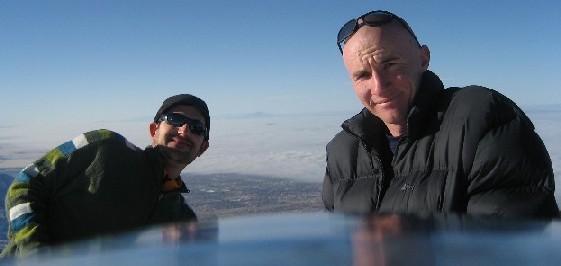 click for big


Anyhow, the race. Lets see, cold, maybe 100 people (going by the bib numbers), pretty great turnout. The race consisted of a wide start, and then essentially singletrack snowshoeing in a big loop around the top of the peak. It was beautiful and there was a ton of snow. The race started fast, but I got a good start and ended leading the race briefly when Zach postholed and nearly bit it.

A short time later, two really fast guys blew by us and dissapeared up the trail with zach shortly behind. I was feeling OK in 5th or so for the first kilometer or so. We dropped down a fairly steep offcamber hill and I noted that without heel crampons, I could not go down as fast as the rest as I was sliding off the trail. Then, essentially, I exploded in a big mass of falling down repeatedly. I think what happened was that the trail was off camber and my snowshoes were pivoting on the toe spikes and getting the tail of the uphillside over the nose of the downhill side causing me to fall suddenly and violently often up to my elbow in snow. I was cleverly protecting my wounded hand, by landing on my right forearm and left hand. Getting up was harder than one would expect. Needless to say, I started going backwards. I may have fell 30 times over the next few km. Sheesh.

After the top 5 or so, the guys who were passing me (digging myself out of snow) were not faster than me, they just were not crashing to the snow. So I caught and passed a few of them a bit as the race ended with a long gradual up hill. The last hill was relatively level, so I finally went full throttle and only fell once. I think the final position was 10th-15th in a time of 41 minutes, results might be here at some point.
Zach finished at 36 minutes in third a few minutes back of the really fast guys, well done Zach!

I am a little disapointed in the race, I think I would have been easily in the top ten, maybe duking it out for a top five without the repeated falling, but overall it was a good workout at 10,000 feet on a beautiful course and a pretty good morning. They had a nice spread of coffee, hot chocolate, bagels, Odwalla juices and bars and a hilariously frozen cheese platter at the end.

Some more photos from the rest of the day:


The guy in the car next to us was kicking it super old school: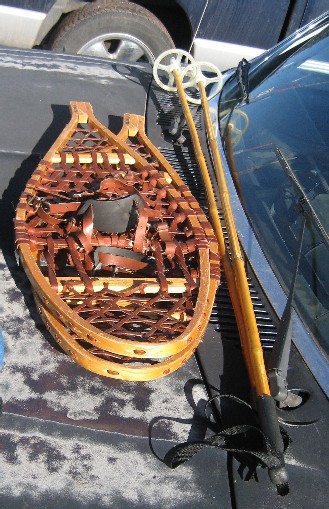 click for big


From just south of Madrid, NM, some good use of boxcars: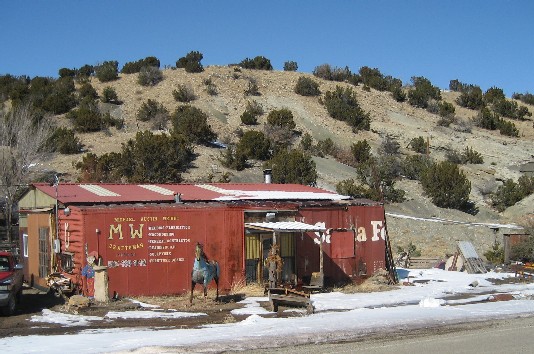 click for big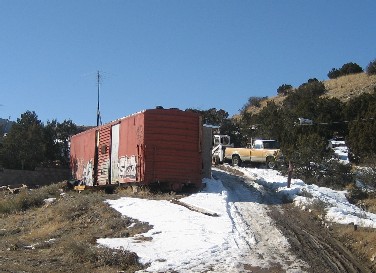 click for big