Check out this astounding, scared cat mummy excavated from the back of a barn in maine: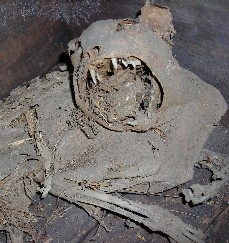 click for big
Hands folded in front of it and its face screaming with terror, this cats fear of death is all too obvious.
While I love me the
boing boing
, sometimes their posts are just
plain old overhyped
. Although in this case the
original article
is even dumber, the title:
Moment 600 years ago that terror came to Mummies of the Amazon
Huh? How did they scare the mummies 600 years ago?
Anyhow, cat pic from my uncles barn where something like 100 years ago terror came to the mummy cats of Hope, Me.