A few weeks later than scheduled we had the first snow of the winter yesterday, with flurries here in town (7200 feet) and accumulation on the 12,000 foot peaks in the Sangre de Christo Range...
Actually there was some visible accumulation in July on the same peaks, but I am not convinced it was not epic hail, it did not stick around for 24 hours either, so it is hard to tell whether that was the last storm of last winter, the first of this winter, or just lots and lots of hail. Which is not snow.
Here is a late afternoon shot from my roof: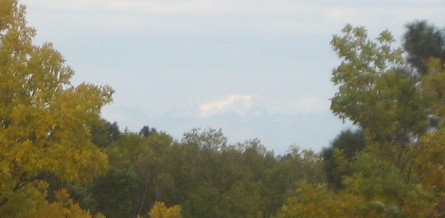 Right there in the center are the snow covered Truchas peaks. Really. I just forgot my camera when I was riding around earlier in the day. It looked great!
See
2006 first snow
and
2005 first snow
for comparison. Wow, this blog is old! So very old. The nice part is that I am now able to call on two previous years of blog posts (425 or so and counting) when I get stuck for ideas.
Update 10/18/2007
Ah here we go, still there 48 hours later: