In between the weekends cross races in boulder Elena and I got to hang out with my good buddy
Mark
in Boulder. I had not seen him since some time in 2005 I believe, so it was good.
Here are Mark and I with bike geek dork grins in front of
Vecchios
, must have been all the
merckx
eye candy in the shop: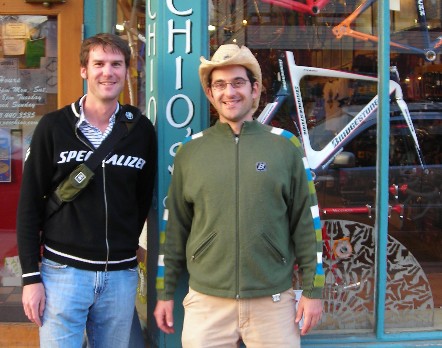 click for big.
Mark is styling with his disco gold
schwinn
traveler townie bike with SA hub and
wald
basket: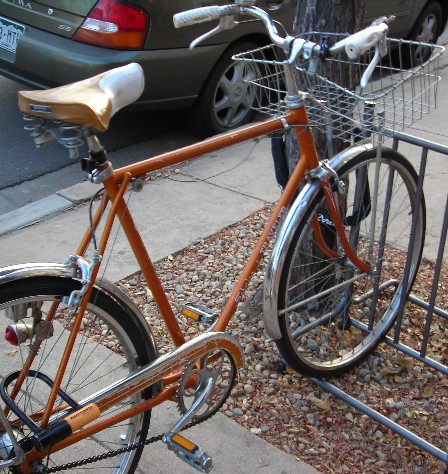 click for big.
In front of university cycles there was an excellent
schwinn
cycle truck bolted to the sidewalk with the basket filled with wired on loner tools: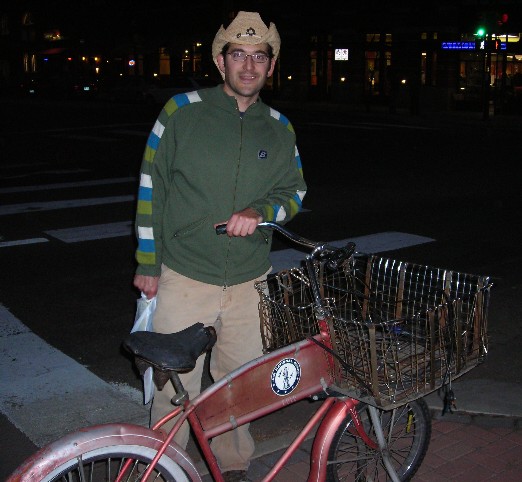 click for big.
In order to make the basket a bit bigger, it wraps around the head tube. Spectacular: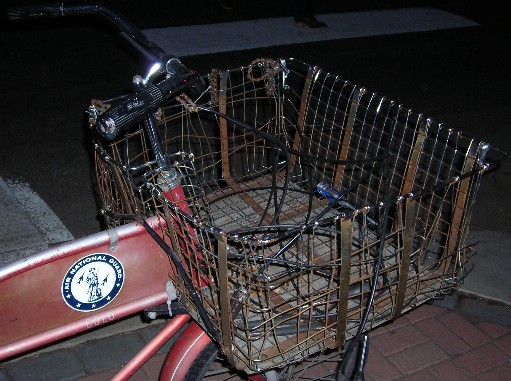 click for big.
Vecchios
was a treat, with great mechanics stations, really nice high end bikes, and parts and lots and lots of
collectible
bikes, jersey's and the like. I got an eddy
merckx
bike cap, but had I stayed longer, I am pretty sure I would have bought
alot
of bike tools after seeing their well thought out work benches and pegboards. University cycles was a complete surprise to me. I had never heard of the shop before. It is probably one of the larger shops I have ever set foot in.The pure quantity of high end bikes on the floor was amazing. Its
children's
bike section was probably as big as your LBS. It also had a really nice collection of
collectible
bikes hanging from the ceiling, ranging from the late 1800's to recent
Olympian's
bikes. Most appeared to be restored, but no matter, it was great to see. Both shops are worth a visit