Sometimes I am excited to go race cross, sometimes I am too lazy to drive to albuquerque, so instead I stay in los alamos and go for great rides from the house. Much less driving. I did a nice road ride with
Scott
and Carrie on Saturday, spent friday night in the bicycle dungeon reshodding the picnica, rebuilt my light cross wheels on friday and saturday night while elena and I watched some DVD's, and did a nice long mountain bike ride sunday.
So on to the photos.
Radium sniffs the picnica wheel prior to the new rubber: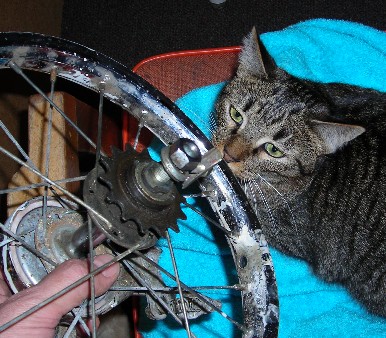 I will post more photos on this later this week, the rear wheel is perhaps one of the dumber wheels ever and worthy of its own entry.
Carrie on the maiden voyage of her new light as crap pink bike: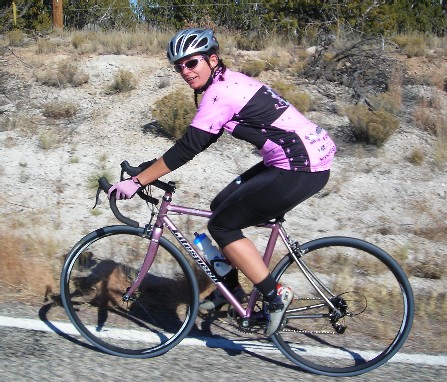 clickforbig
Scott has more photos and
build details on his blog
. We did the bandelier loop which, being lazy, I had not done in a few months. I am pretty sure we saw way more bikes than cars between white rock and the back gate on the beautiful sunny day.
Here is a short video Carrie and Scott riding out of Ancho canyon. Note the audible evidence of me riding in too big a gear as I climb past them: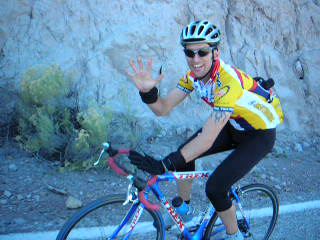 click for movie
A nice photo of the panorama at the end of north (?) mesa on today's mtb ride, looking due east or thereabouts: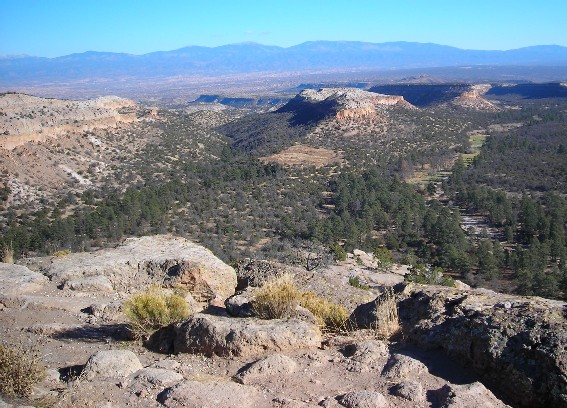 clickforbig
Here is a nice video of the 270 degree view from here
. The end of the mesa here is one of the best mid ride snack break spots I have ever seen. Doing the perimeter trail out to the mesa end and back by the bmx track and through the bridges trail back to my house is something like 18 miles with less than a mile of pavement. I did a few hot laps on the bmx track and did not hurt myself. I did under eat so I bonked a bit. I also was mistaken for scott at the end of the ride. Even though I probably have 40 pounds on scott.
excellent weekend to be on a bike, yep...