A few days ago, I sent an email to the CR list ISO R nuts for the missing cotters on my
1966 Raleigh Sports
that I rescued from a garage sale. Anyhow, I got a million replies on or off lists for sources for little raleigh parts. British Ebay and
bikeville
were the most useful links. But a fellow raleigh-phile donated a set of worn but usable cotter nuts to the cause.
This generous raleigh-phile,
Neal
, has a really impressive collection of old raleighs. Sports, Lentons, D's, competitions, etc. Ranging from the 30's until the 80's.
His site
is really worth checking out. My favorite one he had is the mindbendingly shiny
1966 Chrome Raleigh Sports
he has. The chrome is nice and totally changes the character of the bike, from the flat black and pinstriped understated workhorse, to the blingy eye candy. Apparently these bikes were dealer sales incentives in the 60's. Wow! Check out all the photos on his page, but he also sent me this glamour shot, apparently it is nice enough that it lives in his living room: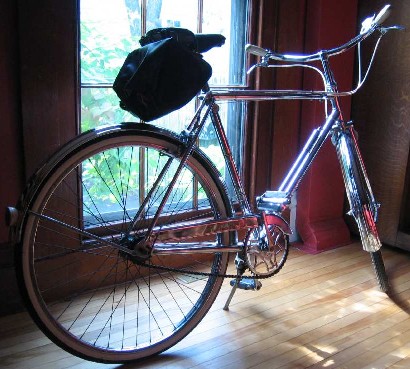 click for big
I got another email from Mark who directed me to his
customized hot-rodded Sports
over in cyclofiends gallery. Here is a photo I stole from the page: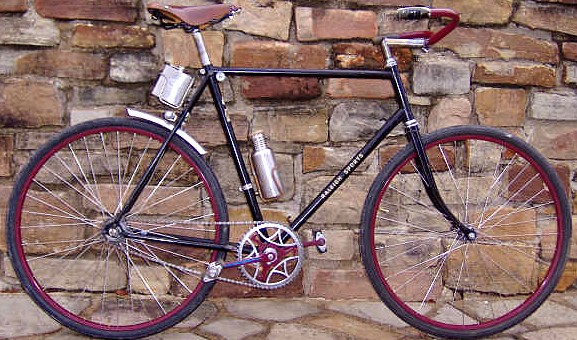 click for source.
Pretty neat bike. I really like the red rims, bars and cranks with the flat black frame. So hot-rod. That is roughly what I had in mind for my sport, but a bit more stock. I am planning on using a similar bendix 2speed coaster brake hub and some 584 rims with fatty rumpkins on them for some fat multi surface tires that hopefully ride better than the 590's that are easily available.
I was just looking at some
car show pictures
last week and wondering why the clean flat black and red look has not been done that often on bikes. There has to be ways to include the hot rod look without making dumb looking lowriders and chopper cruisers.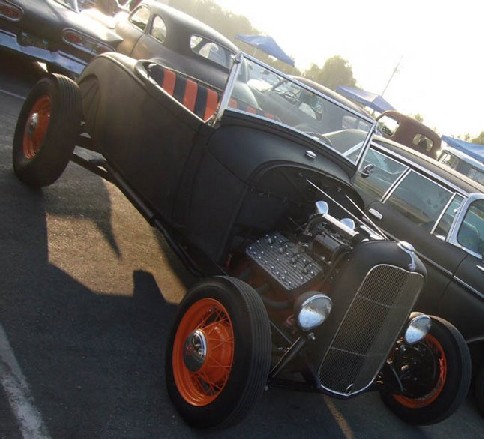 click for source at
coops
blog.
The pinstriping and boxlining and flamboyant paint jobs on the british bikes seem to be the right idea, but a bit of customization from there you could have some nice hot rod bikes. There is some good stuff on the venerable
bikerod and custom
webpage, but lots of crap. OC chopper style bikes are not the droids I am looking for, but
this
and
this
are steps in the right direction.