The rack revolution is going strong. Check out the work at this past weekend's insufferably cool Oregon Manifest -
alex w's photos here
among others about the net. Almost every bike there seems to have some sweet custom racks. Maybe I will go there next year.
Some other nice racks I have seen of late.
From suckapants.com, a great blog (often not safe for work ) running the gamut from music to bikes to exploring the abandoned margins of the american urban experience or something, I saw this very sturdy looking rack probably used originally for clearing cows off railroad tracks: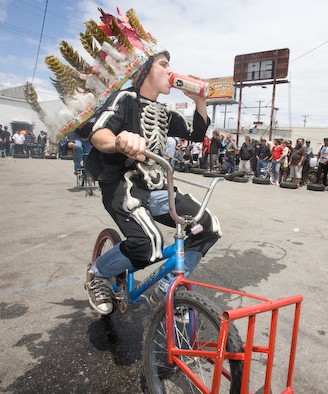 Click for source post and original image "Punk aint dead, it just rides a bicycle now"
From my bedroom window yesterday, I spotted this rack:
Not a rack, but I wanted to install this very cool narrow basket on my bike:
But elena made me put it in the bathroom:
Yes Jill, racks are the new chickens.