Had a good month of finding stuff on the wheel.
I found a nice 14mm Made in USA Craftsman Socket over near work (3/31/14):
Then I grabbed a couple big rounds from a Chinese Elm tree off the curbside on my way home. It was a reasonably smooth ride home from there all loaded up on the big dummy (4/2/14):

I found this excellent Hairy creature jaw on a run in the canyon near the house. I stashed it nearby in a somewhat relocatable place hoping the insects clean the bones for me by the fall. Or I will forget about it and never see it again (4/18/14):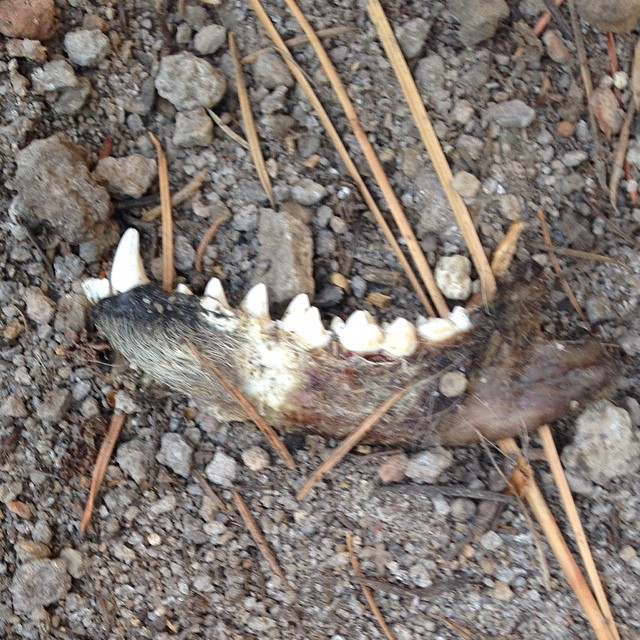 Then I had one of the best single road find days of my life on Tuesday April 29th, 2014. I found a big honking 4xl reflecty safety jacket in the middle of the road at 7am on my way down to white rock for training. Then I took a lunch break out at the overlook and found a lacrosse ball on the way back to class. Lacrosse balls are excellent to juggle with and really satisfying to hit with a baseball bat, but I don't really endorse that activity in a neighborhood or in close quarters...
Scene from lunch at the overlook

Then after an afternoon of unsatisfying training activities, I took the long way home from White Rock, around the bandelier loop, and while climbing slowly out of a canyon somewhere, I looked over to the side of the road and saw this gleaming out at me amid the detritus of some recently removed trees:


I stashed it in my musette and kept on riding.
Then at the top of the long climb before the back gate, I saw an excellent pink Pedro's tire lever waiting for me on the side of the road. I picked it up as it began snowing reasonably hard. I took a break, put on my jacket and rode on home through the snow flurries.
4/28/14, the dubious collection of the road find day of infamy

It was a good day.