Chinese Bici del dia
Mixing things up a bit, I will have a chinese bike of the day up each day for the rest of the week.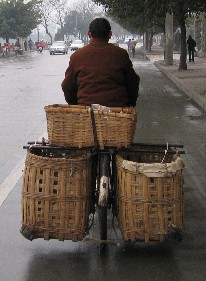 Click for really big.
Yeah baskets. Taken whilst awheel in early '05 on a bike path around Chengdu. Pretty typical, never found a place that made the baskets, but lots of nattily dressed chain smoking old guys had beautiful big wheeled (at least 700c) traditional bikes festooned with big wicker baskets. Nice. Most bikes were in the 26" family, even the new traditional bikes, but the olduns were classy looking. Seat on the top tube, bars even with seat, bikes with drop dead beautiful patina, probably raleighesque oven baked enamel finish gone 50 years and a revolution worth to pot. The posties had some stylie green bikes with gold lettering and great bags, but never found a place to get the bags.
By the way, image copyright
Tarik Saleh
2005. Do not steal it for profit, dig?