Fourth Day of Chinese Bikes
Ok enough with the raleghoids for a tiny bit, cargo bikes: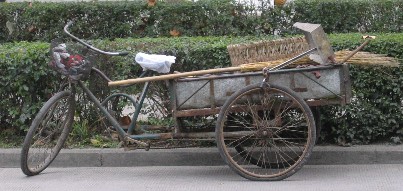 Click for big.
This is an older style cargo trike that was very common in Chengdu. The front triangle has an elegant wavy toptube with a wavy upsidedown U for
Chuck Norris
like strength. Usually there was a linkage brake on the front wheel and a down tube mounted hand brake for the rear of the bike. Although crappy plastic brooms were everywhere, some of the maintnance workers/gardners still used these nice bamboo and straw brooms, sweeping into dustpans and transferring trash into huge woven baskets.
This bike is in pretty good shape and was a rider, I will show youse a closer view of a more typical cargo bike on campus Saturday.
The picture again is on campus of Sichuan University in Chengdu. copyright me.