Unlucky thirteenth day of Chinese Bikes, or not
I think this is the last day of not bikes, OK?
Gratuitous cat photo from the beautiful town of Lijann:

click for big
The old city of Lijann (Lijang) was very beautiful and was a bit of a tourist trap, packed with Han Chinese and very few westerners. Much of it was new or rebuilt following a huge earthquake a decade ago and a subsequent tourist expansion. They new buildings in the old section are very well done in the traditional style.
Anyone know the deal with these odd cylopian miliatary jeeps? I saw them all over the roads in rural Yunnan provence, but none in Sichuan. One headlight, exposed engine, dead simple, possibly powered by a hamster in a wheel.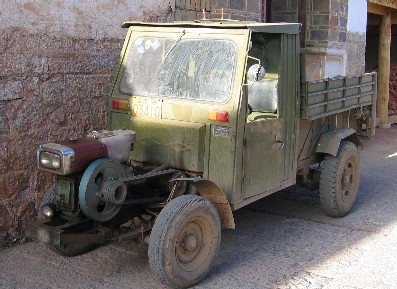 click for big