Day Eleven of the continuing Chinese Bike of the Day Watch, 2006
King Coal.
Yep yep, China, like the US, is pretty much rich in only coal as far as natural resources. Unlike the US, it is used everywhere by everyone for cooking, home heating, restaurants, business, industry. Riding around the city of Cheng du involved many a coal mote in the eye and nasty air. It is easy to understand the Chinese penchant for hydroelectric dams when you see the human and environmental cost of coal based energy. My understanding is that Tiger Leaping Gorge will be dammed up in the next 10 years or so, which will be a crying shame, but might not be too bad a thing for people living in cities in china.
In Cheng Du there were large flat carts heaped high with coal puckies being drawn by walking people. In Lijiang, Yunnan Provence, a picturesque tourist town near Tiger Leaping Gorge, the streets were a bit tighter, but for some reason cargo bikes were used.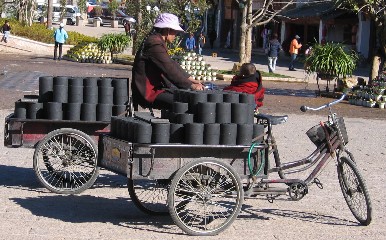 click for big.
These bikes are typical Yunnan Provence cargo trikes. I will post some photos of the cargo bike headquarters in the next week. Note the nice springs for the suspended bed. I have no idea what the pedals are, I did not notice them until right now.
The little boards are for piling the pucks on and delivering them to the customers.
click for big.
The coal pucks were kind of neat looking, like carbonized lotus roots. Almost wanted to take a bite.